EMRI as A Sustainable Model
Naveen Kumar, B and Sravanthi, V (2015) EMRI as A Sustainable Model. European Journal of Business and Management, 7 (4). pp. 141-146. ISSN 2222-1905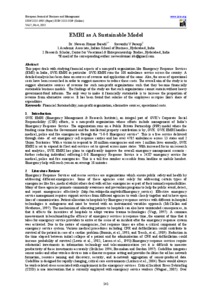 Preview
Text (Open Access)




2.pdf


Download (561kB) | Preview
Abstract
This paper deals with studying financial aspects of a non-profit organization like Emergency Response Services
(EMS) in India, GVK-EMRI in particular. GVK-EMRI runs the 108 ambulance service across the country. A
detailed analysis has been done on sources of revenue and application of the same. Also, the areas of operational
costs have been researched in order to suggest measures to reduce these costs. The overall aim of the study is to
suggest alternative sources of revenue for such non-profit organizations such that they become financially
sustainable business models. The findings of the study are that such organizations cannot sustain without heavy
government-fund infusion. The only way to make it financially sustainable is to increase the proportion of
revenue from alternative sources. It has been found that salaries of the employees occupies lion's share of
expenditure.
Actions (login required)