Deterrence for Independent Directors and Corporate Boards: Evidence from a Natural Experiment
Chakrabarti, R and Subramanian, K (2012) Deterrence for Independent Directors and Corporate Boards: Evidence from a Natural Experiment. Working Paper. Indian School of Business, Hyderabad. (Unpublished)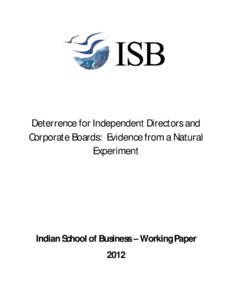 Preview
Text




merged_document.pdf


| Preview
Abstract
We study the effect of the personal liabilities faced/perceived by independent directors
(IDs) on ID entry and exit decisions, board composition and monitoring. Since Directors and
Officers insurance changes with the risk of personal liabilities, studying this question is difficult.
We examine this question using an unexpected, high-profile corporate governance (CG) failure
in India, which increased the risk of personal liability. We find that, in contrast to CG failures in
the U.S. in 2001, IDs exited in large numbers thereby decreasing the percentage and quality of
IDs on boards. On the flipside, the increased deterrence stemming from greater risk of personal
liability enhanced ID monitoring.
Actions (login required)
| | |
| --- | --- |
| | View Item |