Do CEO pay cuts really work?
Lobo, G J and Manchiraju, H and Sridharan, S S (2013) Do CEO pay cuts really work? In: Research Seminar on Accounting, 10 April, 2013, Hyderabad, India.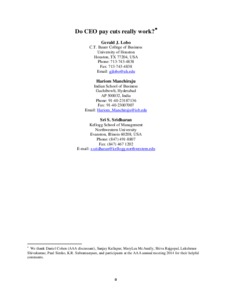 Preview
Text (Download)




4.pdf


| Preview
Abstract
CEO pay is often cut in poorly performing firms to prod the CEO to work harder and restore profitability. This paper examines whether such CEO pay cuts really work. Although we do see an improvement in firms' reported accounting performance following a CEO pay cut, we find that much of this reported improvement is achieved via accruals and real activities manipulation. We also find that earnings management after a pay cut is more pronounced when managers are more entrenched and less likely when institutional ownership is higher. Finally, we find that boards of directors do not punish such opportunistic behavior sufficiently. Collectively, we interpret these findings as evidence of managerial influence in the pay-setting process.
Actions (login required)
| | |
| --- | --- |
| | View Item |