Mathematical finance
Rao, M R and Kapshe, S (2012) Mathematical finance. Current Science, 103 (6). pp. 644-646.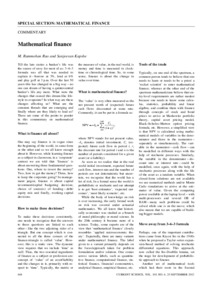 Preview
Text (Publisher Version : as permitted by publisher)




0644.pdf


| Preview
Abstract
Till the late sixties a banker's life was
the source of envy for most of us: 3–6–3
formula was all that was needed to
explain it – borrow at 3%, lend at 6%
and play golf at 3 p.m. Over the last 50
years this has changed in a big way – no
one can dream of having a quintessential
banker's life any more. What were the
changes that caused this dream-like lifestyle to evaporate? In what way are these changes affecting us? What are the
common threads that are emerging and
finally where are they likely to lead us?
These are some of the points to ponder
in this commentary on mathematical
finance.
Actions (login required)
| | |
| --- | --- |
| | View Item |