Penetration of Mutual Funds in India - Opportunities and Challenges
Chakrabarti, R and Malik, S and Khairnar, S and Verma, A (2014) Penetration of Mutual Funds in India - Opportunities and Challenges. Development Research Group Studies 2013 -2014.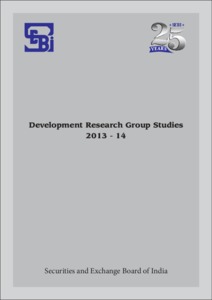 Preview
Text




Penetration of Mutual Funds in India 00.pdf


| Preview
Abstract
We carry out a preliminary enquiry into the nature of geographical penetration and distribution of mutual
funds in India as well as their likely determinants. Using a questionnaire survey we collect qualitative and
quantitative evidence from fund managers on the nature and determinants of their geographical presence
throughout the country. Distribution channels seem to play a major role in fund penetration and facilitating
these rather than trying to boost demand through financial literacy may be a more effective way of achieving
better fund penetration.
The Indian mutual fund industry is one of the fastest growing and most competitive segments of the financial
sector. As of August 2013, the total AUM stood at Rs. 7.66 trillion. However, growth rates of AMCs have
come down from the peak levels seen in the early 2000s. One of the biggest reasons behind this is the lack
of healthy participation from a large part of the country. This lack of penetration can be due to two reasons:
a) Low demand of mutual funds from the public outside the major (T-15) cities. This low demand in turn could
be caused by low levels of financial literacy, cultural attitudes towards savings and investments etc., and
b) Low supply of mutual funds from AMCs outside the major cities. The low supply could be due to perceived
lack of demand from the general retail investor or due to lack of available manpower in these areas.
The study first documents how Assets under Management (AUM) are unevenly distributed across the country
and then proceed to scrutinize the reasons behind this uneven penetration. It focuses on the AMCs distribution
networks using proxies such as the distribution of independent financial agents (IFAs) across the country, sales
made by IFAs, distributional efficiency of AMCs etc., A survey of fund houses was carried out to gain a better
understanding of the causes holding them back from expanding beyond top 15 cities.
The study found that low number of agents (per capita) in sub-urban and rural areas and the slow growth
rates in mutual fund sales in the corresponding areas are closely associated with each other.
Actions (login required)
| | |
| --- | --- |
| | View Item |