Who Gains from Parliamentary Disruptions?
Sanyal, K (2015) Who Gains from Parliamentary Disruptions? Economic & Political Weekly, L (35).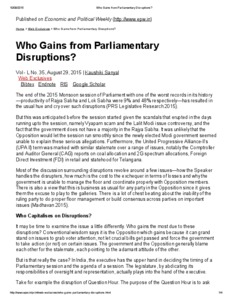 Preview
Text (Download)




Who Gains from Parliamentary Disruptions_.pdf


| Preview
Abstract
The end of the 2015 Monsoon session of Parliament with one of the worst records in its history—productivity of Rajya Sabha and Lok Sabha were 9% and 48% respectively—has resulted in the usual hue and cry over such disruptions (PRS Legislative Research 2015).
But this was anticipated before the session started given the scandals that erupted in the days running upto the session, namely Vyapam scam and the Lalit Modi issue controversy, and the fact that the government does not have a majority in the Rajya Sabha. It was unlikely that the Opposition would let the session run smoothly since the newly elected Modi government seemed unable to explain these serious allegations. Furthermore, the United Progressive Alliance-II's (UPA II) term was marked with similar stalemate over a range of issues, notably the Comptroller and Auditor General (CAG) reports on coal allocation and 2G spectrum allocations, Foreign Direct Investment (FDI) in retail and statehood for Telangana.
Most of the discussion surrounding disruptions revolve around a few issues—how the Speaker handles the disrupters, how much is the cost to the exchequer in terms of losses and why the government is unable to manage the floor and coordinate properly with Opposition members. There is also a view that this is business as usual for any party in the Opposition since it gives them the excuse to play to the galleries. There is a lot of chest beating about the inability of the ruling party to do proper floor management or build consensus across parties on important issues (Madhavan 2015).
Actions (login required)
| | |
| --- | --- |
| | View Item |