Executive compensation in India
Chakrabarti, R and Subramanian, K and Yadav, K P and Yadav, Y (2012) Executive compensation in India. In: Research Handbook on Executive Pay. Edward Elgar Pub. ISBN 184980396X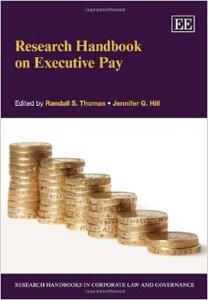 Preview
Image (Cover page)




download.jpg


| Preview
Abstract
The issue of executive compensation in corporate India has gained increasingly in
significance since the advent of economic liberalization in 1993-94, the subsequent rise of
India as a leading center for international investment, and the rapidly increasing domestic
equity participation from retail investors in Indian capital markets. Salaries for senior
management have grown sharply since 1994, and are sizable in the Indian context,
particularly when compared against non-managerial employee salaries. The sharp rise in
salary levels, and the wide regulatory latitude afforded to boards to set executive pay after
1993-94 reforms, have prompted concerns long analyzed in developed markets in relation to
the play of incentives governing executive employment contracts, and in particular, the better
alignment of pay with performance to reduce "agency costs," and the use and abuse of
managerial power to extract rents and thereby disgorge shareholder value. As India seeks to
progress the creation of corporate governance systems in avowed alignment with
international best practice, it presents an interesting case-study in the context of executive
compensation, both from an economic as well as a regulatory policy perspective.
Actions (login required)
| | |
| --- | --- |
| | View Item |